Shop around early for new energy contracts is our advice to customers seeking to avoid the risk of skyrocketing energy prices this winter.
Our warning comes hot on the heels of Transpower cautioning that the Electricity Authority's recommended measures to ensure the security of electricity supply for this coming winter are insufficient, and that urgent action is now needed to prepare for winter demand.
The Gas Industry Company is also ringing the alarm bells saying, "To avoid the situation where some customers are coming to market at times of tightness across the energy sector, we advise industrial and commercial gas customers with upcoming contract renewal to 'go to market' for supply well in advance of the contract expiring. It is our view that going to market early will reduce the exposure risk associated with low hydro inflows impacting on gas supply in Q2, 2023."
Decreasing generation, rising prices
So how and why has this situation arisen? Well, it's been a long time in the making with NZ's operational generation capacity reducing since 2010, as thermal base load generators have closed and not been replaced.
New generation that has come on stream since 2010 is mostly intermittent wind generation that is reliant upon the caprice of mother nature. Consider the fact that on an annual basis, NZ wind farms generate at an average of 40% capacity – meaning replacing baseload thermal capacity with like for like wind capacity results in an average 60% shortfall.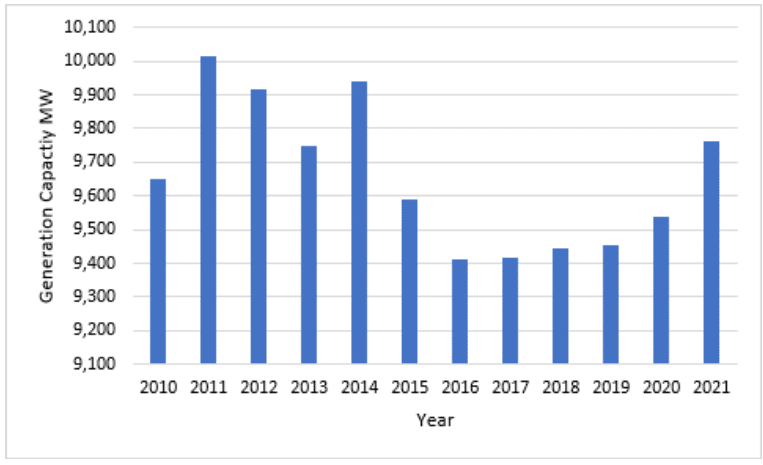 The early bird catches the worm…
With all indications pointing towards winter shortage and increasing price volatility, we encourage our clients to review the market well in advance of energy contracts expiring. This allows time to shop around and find the very best deals for your business while you still have some room to manoeuvre. 
Leaving it to the last minute will likely leave your business exposed to the vagaries of the winter market and the possibility of surging prices. You could be forced to accept increasingly unfavourable energy contracts that end up costing your business dearly.
The below tables show how prices have surged over just the last month: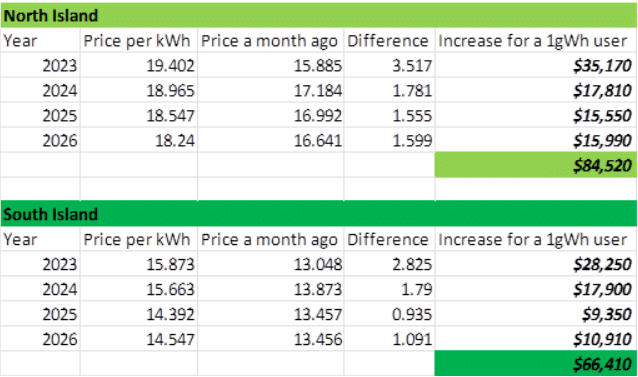 Light at the end of the tunnel?
While the current picture of the energy market seems fairly bleak, there is perhaps some room for optimism with signs pointing to new generation in the pipeline – albeit slowly.
News from Transpower is that NZ could bring on more than 7230 megawatts of new grid-connected generation capacity if the top 51 projects in its new Connections Management Framework are commissioned. Six projects totalling 595MW are currently in delivery phase with 22 projects under investigation.
A Transpower spokesperson says that the new framework, which went live in November, was developed in response to the sharp increase in grid connection enquiries during the 2021/22 financial year. They say enquiries to connect new generation projects to the grid have increased from around five per year, to 124 in FY22.
The new framework has been encouragingly described by Helios Managing Director Jeff Schlichting as 'robust' and he believes it should work well to ensure the timely development of renewable energy projects needed to help the country decarbonise and meet its climate change commitments.
Here's hoping that Jeff's got it right and that things are finally starting to move in the right direction. In the meantime it pays to prepare early and hunker down for the winter of energy discontent.
---
Sign up below for Total Utilities Market Commentary to receive all the latest market news and insights.